Apple has once again taken the tech world by storm with the release of its latest flagship smartphones, the iPhone 15 Pro and iPhone 15 Pro Max.
These two devices, designed with precision engineering and cutting-edge technology, promise to redefine the smartphone experience. As a seasoned business person, you're likely keen to understand what these new iPhones have to offer and how they can enhance your professional life.
In this article, we will explore the key features and innovations of the iPhone 15 Pro and Pro Max, with a particular focus on their potential impact on business and productivity.
A Striking Titanium Design
Apple's commitment to innovation and design excellence is evident in the iPhone 15 Pro and Pro Max's striking titanium construction. The aerospace-grade titanium not only ensures a lightweight build but also remarkable strength. As a business person, this means you can carry a powerful device that's both durable and elegant. Available in four appealing finishes, including black, white, blue, and natural titanium, these iPhones make a statement while exuding professionalism.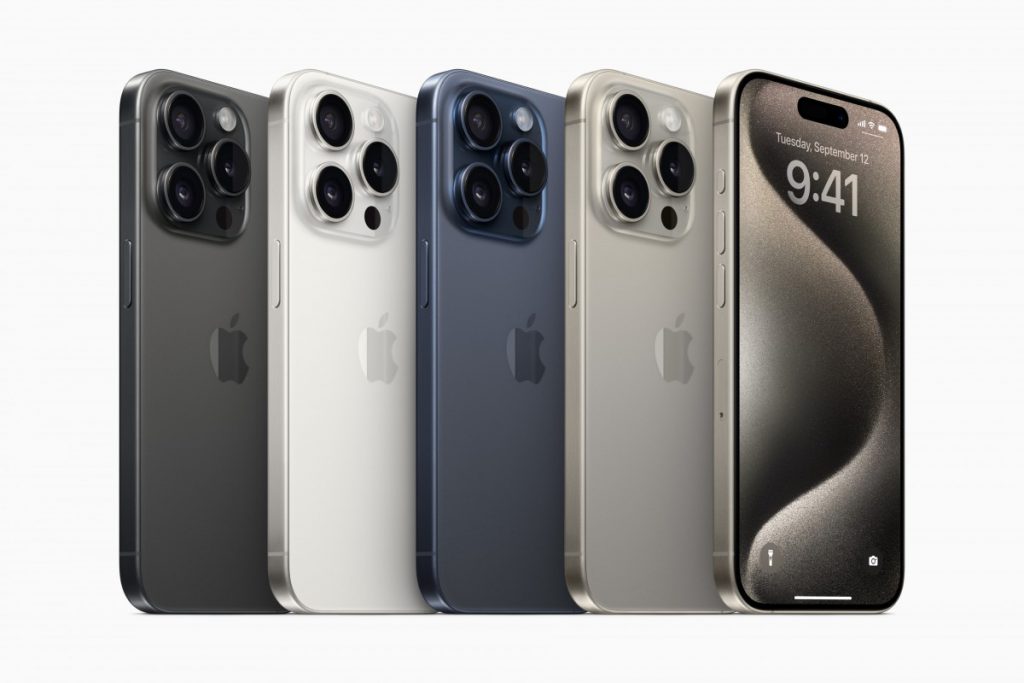 Customisable Action Button: Tailoring Your iPhone 15 Pro and Pro Max Experience
One standout feature that can significantly enhance your daily workflow is the customisable Action button. Replacing the traditional mute switch, this button allows you to personalise your iPhone experience. Whether you want quick access to the camera for capturing on-the-go moments, activating the flashlight for instant illumination, or utilising Voice Memos and Focus modes for productivity, the Action button puts control at your fingertips.
A17 Pro Chip: Unleashing Performance
The heart of the iPhone 15 Pro and Pro Max lies in their A17 Pro chip, the first-ever 3-nanometer chip in the industry. This cutting-edge processor promises to revolutionise performance, making tasks smoother and more efficient. With a CPU that's up to 10% faster and a GPU offering 20% better performance, these iPhones are ready to handle the demands of your business applications and multitasking needs.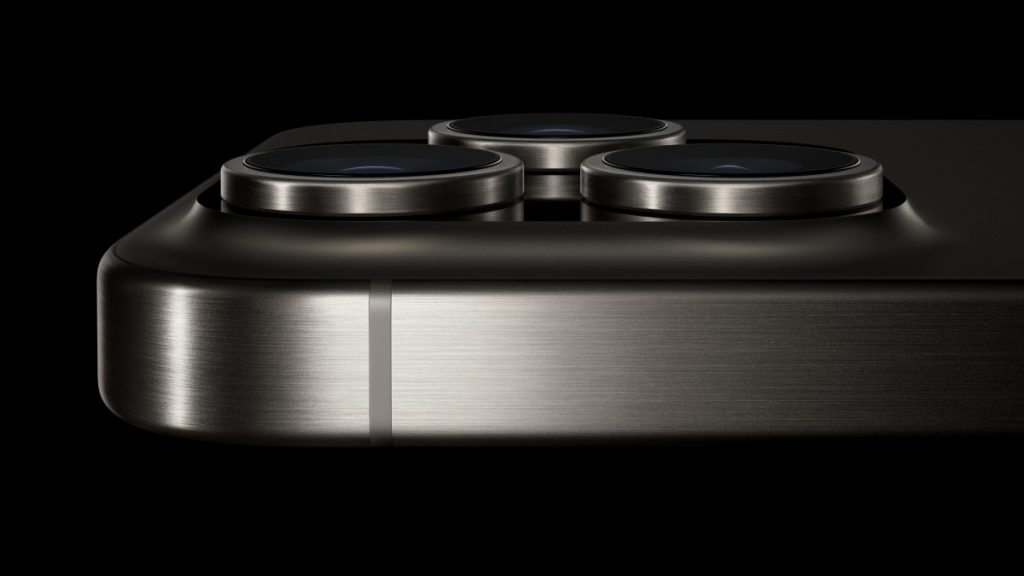 Enhanced Camera Systems: Perfecting Your Visuals
In the business world, visuals matter. The iPhone 15 Pro and Pro Max take mobile photography to new heights with their advanced camera systems. Equipped with the equivalent of seven pro lenses, these iPhones let you capture stunning images and videos effortlessly. The 48MP Main camera system, supporting a super-high-resolution 24MP default, offers unmatched image quality for your business presentations, marketing materials, and social media content.
New 5x Telephoto Camera for Precision
For professionals who require precise imaging at a distance, the iPhone 15 Pro Max introduces the all-new 5x Telephoto camera. This innovation empowers you to take close-ups, wildlife photos, or capture distant actions with unparalleled clarity. The innovative tetraprism design and advanced stabilisation system ensure your shots remain sharp and professional.
Next-Generation Portraits for Professionalism
In the business realm, image quality and presentation matter. The iPhone 15 Pro and Pro Max excel in this department, with next-generation portraits that offer sharper detail, vivid colours, and improved low-light performance. You no longer need to switch to Portrait mode; the iPhones automatically capture depth information, giving you the flexibility to create stunning portraits later. Your business headshots and promotional materials will benefit from this technology.
Improved Night Mode and Smart HDR: A Visual Boost
Business doesn't stop when the sun goes down, and neither do these iPhones. Night mode receives significant upgrades with sharper details and more vivid colours, thanks to the Photonic Engine. This improvement extends to Night mode portraits, enabled by the LiDAR scanner. When presenting your products or services in low-light conditions, these iPhones ensure your visuals are top-notch.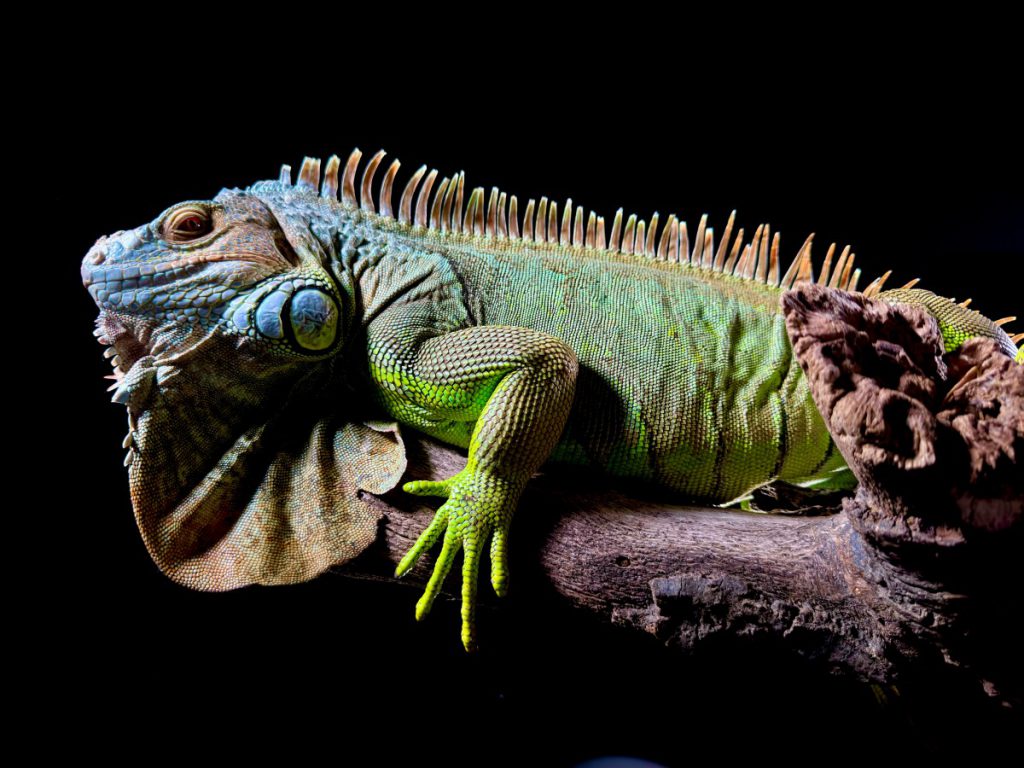 Pro Camera Workflow Enhancements: Your Studio in Your Pocket
Business professionals who rely on high-quality visuals will appreciate the new pro workflows facilitated by the iPhone 15 Pro and Pro Max. Transfer speeds get a boost of up to 20x with an optional USB 3 cable, making it easier to manage and share large files. Photographers can create a pro studio, capturing and instantly transferring 48MP ProRAW images from iPhone to Mac. ProRes video recording directly to external storage elevates your video production capabilities, while support for ACES ensures industry-standard colour workflows.
Spatial Video for Apple Vision Pro: A New Dimension
Looking ahead, the iPhone 15 Pro will introduce spatial video capture for Apple Vision Pro. This feature will allow you to record precious moments in three dimensions, providing incredible depth to your visual storytelling. Whether you're showcasing a property, product, or event, this innovation will add a new dimension to your business videos.
Next-Level Wireless Performance and Connectivity
Staying connected and productive on the go is essential for any business person. The iPhone 15 Pro lineup offers several advancements in this area. With the second-generation Ultra Wideband chip, you can now connect with other iPhone users at three times the previous range, making it easier to find colleagues or clients in crowded environments.
Wi-Fi 6E and Thread Support for Enhanced Connectivity
Wi-Fi 6E support promises up to 2x faster wireless speeds, ensuring that you can stay productive even in bandwidth-intensive tasks. Additionally, the iPhone 15 Pro and Pro Max are the first smartphones to support Thread, a technology that opens up new possibilities for Home app integrations. This means greater control and automation of your smart home devices.
Enhanced Audio and eSIM: Communication Redefined
Clear communication is the foundation of business success. The iPhone 15 Pro and Pro Max bring improvements to audio quality on phone calls, whether you're using FaceTime or third-party apps. Voice Isolation ensures that your conversations remain crisp and clear, even in noisy environments.
With eSIM support from more than 295 carriers, these iPhones enable seamless connectivity while travelling. You can choose affordable international roaming plans or purchase prepaid eSIM plans in over 50 countries and regions, ensuring you're always connected, no matter where business takes you.
Safety and Emergency Features
For business travellers and professionals on the move, safety is paramount. The iPhone 15 lineup offers critical safety capabilities, including Crash Detection and Emergency SOS via satellite. These features provide assistance during emergencies, giving you peace of mind whether you're on the road or abroad.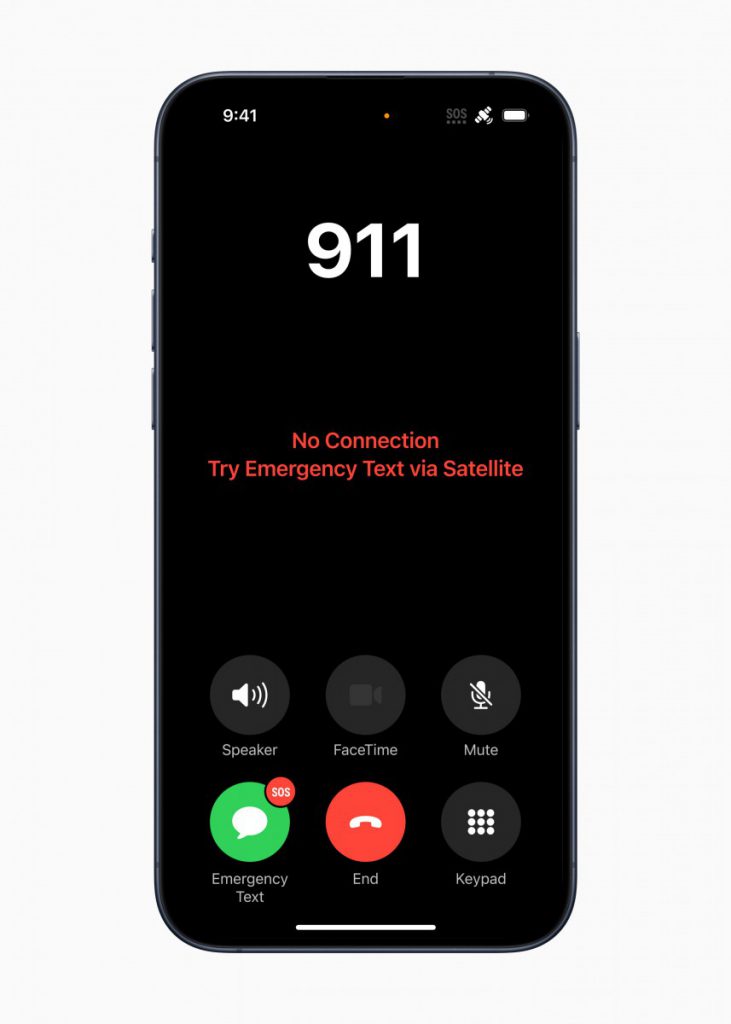 iOS 17: A More Personal and Intuitive Experience
iOS 17 brings a range of features to further enhance your iPhone experience. The Phone app gets updates like Contact Posters, allowing customisation of how you appear to contacts, and Live Voicemail for real-time message transcription. Messages receive improvements such as enhanced search, audio message transcription, and Check-In, which automatically notifies loved ones when you've reached your destination safely.
NameDrop simplifies sharing contact information through AirDrop, while StandBy provides a customisable full-screen experience that's glanceable from a distance when your iPhone is charging. Interactive widgets on the Home and Lock screens make it easier to complete tasks on the fly.
Safari Enhancements and More
Safari adds greater protection for Private Browsing and introduces profiles for separating work and personal browsing. These enhancements cater to your diverse online activities, whether you're researching a business proposal or catching up on the latest news.
iOS 17 also includes Journal, an app designed for reflection and gratitude journaling. It improves autocorrect and Dictation for faster text input and introduces password and passkey sharing with iCloud Keychain.
Sustainability: A Commitment to the Environment
As a responsible business person, you'll appreciate Apple's dedication to sustainability. The iPhone 15 Pro and Pro Max use more recycled materials. This includes 100 percent recycled aluminium substructure and cobalt in the battery. The rare earth elements in all magnets and the gold in the USB‑C connector are also 100 percent recycled. Moreover, over 99 percent of the packaging is fibre-based, aligning with Apple's goal of eliminating plastic from the packaging by 2025.
Eco-Friendly Accessories: A Responsible Choice
Apple is taking sustainability further by discontinuing the use of leather in its products and accessories. The FineWoven Case with MagSafe and FineWoven Wallet with MagSafe is made from eco-friendly materials. They also offer durable and elegant alternatives to traditional leather accessories. These choices contribute to lower carbon emissions and a healthier planet.
Pricing and Availability for iPhone 15 Pro and Pro Max
For business professionals considering an upgrade, the iPhone 15 Pro starts at £999, while the iPhone 15 Pro Max begins at £1,199. Various storage capacities are available to suit your needs. This ensures that you can find the perfect model to support your business endeavours.
Pre-orders for these iPhones begin on September 15, with availability commencing on September 22. If you're the UK, you'll be among the first to experience the transformative capabilities of the iPhone 15 Pro and Pro Max.
Elevating Your Business Game with iPhone 15 Pro and Pro Max
These are more than just smartphones; they're powerful tools designed to elevate your business game. With a striking titanium design, customisable Action button, A17 Pro chip, advanced camera systems, and a host of productivity-focused features, these iPhones are poised to become indispensable companions for your professional life.
Enhanced connectivity, safety features, and iOS 17's user-centric improvements ensure that you can stay connected, productive, and secure in any situation. Apple's commitment to sustainability also aligns with your values as a responsible business person.
As you consider your next smartphone upgrade, the iPhone 15 Pro and Pro Max offer a compelling proposition for professionals seeking to maximise their productivity, creativity, and environmental responsibility. Embrace the future of business with Apple's latest innovations in the palm of your hand.