Apple has once again pushed the boundaries of innovation with the introduction of Apple Vision Pro, a groundbreaking spatial computer that seamlessly merges the digital and physical worlds. With its spatial operating system, visionOS, and an array of cutting-edge features, Apple Vision Pro offers an unparalleled user experience that opens up exciting opportunities for businesses. This blog post will explore the key features of Apple Vision Pro and how it can transform the way businesses operate.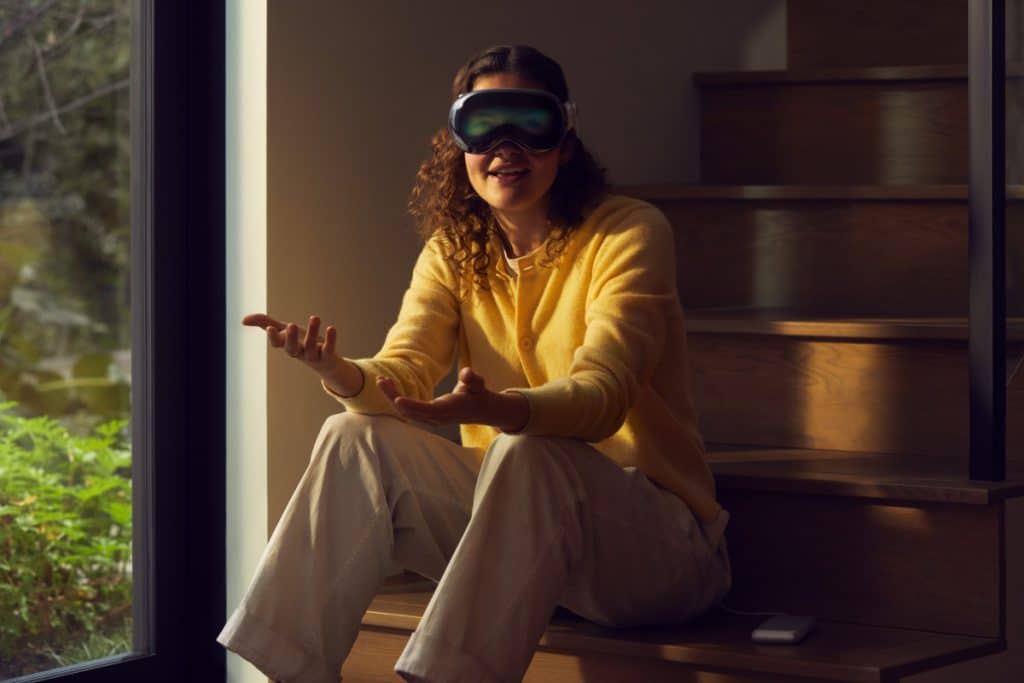 Unleashing Productivity
One of the most significant advantages of Apple Vision Pro is its ability to enhance productivity. With visionOS's three-dimensional interface, apps are no longer confined to a traditional display, but instead appear side by side, providing an infinite canvas for work. This enables users to have access to multiple apps simultaneously, boosting efficiency and multitasking capabilities. Additionally, compatibility with the Magic Keyboard and Magic Trackpad allows users to create a seamless workflow by incorporating the power of their Mac into Vision Pro wirelessly.
Immersive Entertainment
Apple Vision Pro takes entertainment experiences to new heights. With its ultra-high-resolution displays and advanced Spatial Audio system, businesses can transform any space into a personal movie theater. Whether it's watching movies and TV shows or enjoying immersive videos, Vision Pro offers a captivating visual and auditory experience. Furthermore, the device supports gaming with over 100 Apple Arcade games, offering an immersive gaming experience on a large screen with exceptional audio quality.
Creating Immersive Environments
Vision Pro's Environments feature allows businesses to expand beyond the physical boundaries of their workspace. By providing dynamic and beautiful landscapes, Environments help users focus and reduce clutter in busy spaces. This feature enables businesses to create personalised work environments that promote productivity and well-being.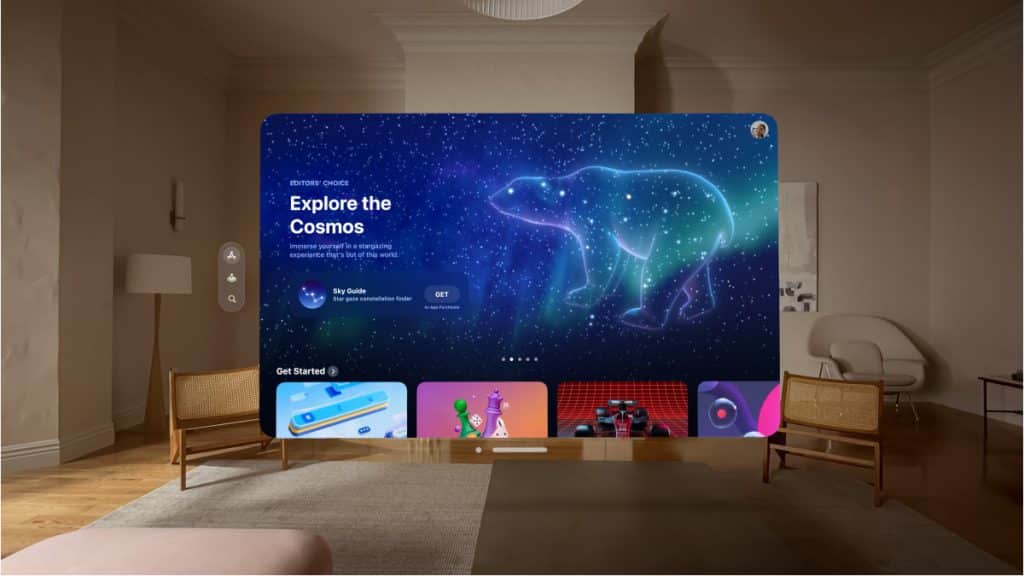 Unforgettable Memories
Apple Vision Pro introduces Apple's first three-dimensional camera, allowing businesses to capture, relive, and immerse themselves in their favorite memories. Spatial photos and videos transport users back in time, providing a lifelike experience of past events and celebrations. With access to their entire photo library on iCloud, businesses can view their photos and videos at a life-size scale, offering a truly immersive and engaging visual experience.
Enhanced Collaboration with FaceTime
FaceTime on Apple Vision Pro revolutionises remote collaboration. During a FaceTime call, users can see participants reflected in life-size tiles, giving the impression of being in the same room. Spatial Audio enhances the experience by creating a realistic audio environment. Users wearing Vision Pro are represented as a digital persona, allowing them to engage in activities like watching movies, browsing photos, or collaborating on presentations during the call. This feature provides a more interactive and engaging virtual meeting experience for businesses.
Expanding App Experiences
Apple Vision Pro offers an all-new App Store, allowing businesses to discover and access apps and content tailored for spatial computing. The device is compatible with hundreds of thousands of familiar iPhone and iPad apps, providing a vast library of software solutions. Developers can leverage the powerful capabilities of Vision Pro and visionOS to design brand-new app experiences or reimagine existing ones specifically for spatial computing. This opens up a world of possibilities for businesses to enhance their operations and create unique applications.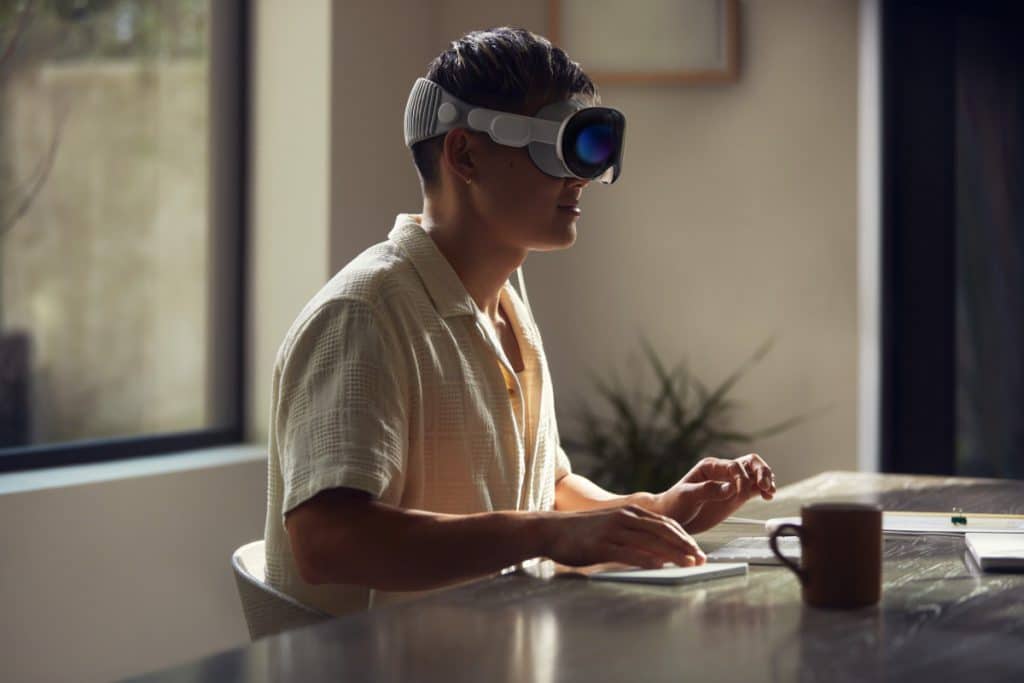 Revolutionary Operating System and User Interface
Built on decades of engineering innovation, visionOS is a revolutionary operating system designed to meet the low-latency requirements of spatial computing. The three-dimensional interface seamlessly integrates digital content into the physical world, providing a natural and intuitive user experience. Vision Pro introduces an entirely new input system controlled by a user's eyes, hands, and voice, enabling effortless navigation and interaction with spatial content. This innovative combination of hardware and software sets Apple Vision Pro apart from any other device in the market.
Breakthrough Design and Unrivaled Hardware
Apple Vision Pro boasts a breakthrough design that combines high-performance technology with a wearable form factor. The device features a compact design, with a three-dimensionally formed and laminated glass lens that acts as an optical surface for cameras and sensors. The modular system ensures a tailored fit for a wide range of users, while the lightweight and flexible straps provide comfort during extended use. The display system, powered by Apple silicon, offers an astonishing 23 million pixels across two displays, delivering unrivaled sharpness and clarity. The advanced Spatial Audio system further enhances the immersive experience.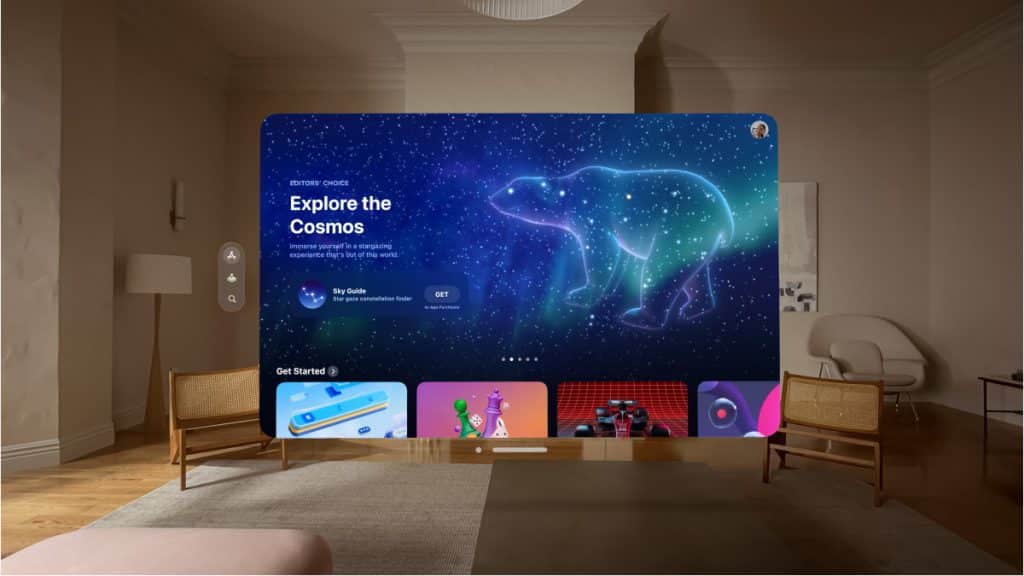 Privacy and Security
As with all Apple products, privacy and security are paramount. Apple Vision Pro incorporates Optic ID, a secure authentication system that analyses a user's iris and compares it to the encrypted Optic ID data stored on the device. Eye tracking information and user surroundings remain private, and data from the device's camera and sensors are processed at the system level, ensuring a high level of privacy and security for businesses.
Summary
Apple Vision Pro marks the beginning of a new era for business computing. With its spatial technology, visionOS, and an array of powerful features, Vision Pro offers businesses unparalleled productivity, immersive entertainment, enhanced collaboration, and limitless app experiences. The revolutionary operating system and user interface provide a seamless integration of the digital and physical worlds, enabling businesses to explore new opportunities and create extraordinary experiences. Apple Vision Pro is poised to revolutionise the way businesses operate, setting new standards for spatial computing.