O2 have now introduced eSIM packs to allow our customers with capable devices to use this capability.
Since Apple added eSIM capability to the 2018 iPhones, we are starting to receive more requests for when customers can start using an O2 eSIM with a capable device.
What is an eSIM?
Simply, its an embedded SIM card. It's a form of programmable SIM that integrates directly into a phone.
The surface mount format provides the same electrical interface as the full-size SIM cards but is soldered to a circuit board as part of the manufacturing process.
But, this isn't for everyone…
We think that most customers will be happier using the plastic SIM card they are already familiar with, so we'll continue to offer regular plastic SIM cards but also provide eSIM packs when customers request one.
Benefits:
Can hold multiple eSIM profiles on the same eSIM.
Reduced space within the phone.
Can reduce SIM card manufacturing and distribution costs.
The technology allows customers to:
Use one number for business and one for personal calls on the same device.
Add a local data plan when you travel abroad.
Have separate voice and data plans.
Which O2 phones support eSIM?
You must make sure that your customer has a phone that supports this capability:
Apple iPhone 11
Apple iPhone 11 Pro
Apple iPhone 11 Pro Max
Apple iPhone XS
Apple iPhone XS Max
Apple iPhone XR
Samsung S20 4G
Samsung S20 5G
Samsung S20 5G Plus
Samsung S20 Ultra 5G
(support on iPhone requires iOS 12.1 or later)
We'll keep you updated when O2 add more devices. Please be aware that Apple Watches and any other non-mobile devices are NOT compatible.
Who can have one?
New and existing customers and includes SIM swaps and re-signs.
How to download
You can download your eSIM using the QR code inside the pack.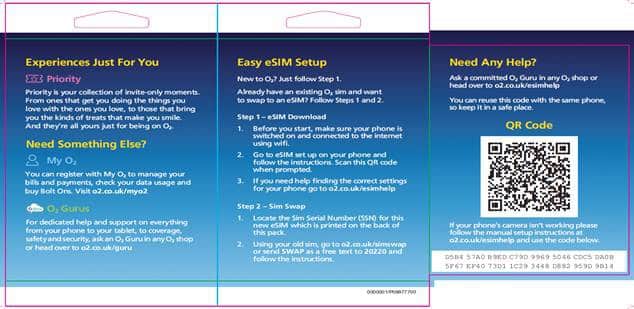 Important things to note about the download:
An eSIM pack is for one device. It can not be transferred from one device to another as you can with a plastic SIM.
You will be able to download the eSIM profile from an eSIM pack a total of three times to the same device – failed downloads don't count.
Download for iPhone
Please make sure the phone is connected to Wi-Fi, go to 'Settings', 'Mobile Data' and select 'Add Data Plan'
Use the phone's camera to scan the QR code – confirm by pressing 'Add Data Plan'
As part of the setup you'll be able to assign a name to each mobile number and also choose which mobile number to use by default for data, calls and texts
You can change these settings whenever you like by going to Settings > Mobile Data > Default Voice Line / Mobile Data.
Download for Samsung (Android)
Make sure your Samsung phone is connected to Wi-Fi
Find your QR code in your eSIM pack
Go to Settings > Connections
Select 'SIM card manager'
Click the + button for 'Add mobile plan' under eSIMs
Select 'Add using QR code'
You'll then be asked to use your phone's camera to scan your QR Code. The eSIM profile will download and you'll be asked to activate your new eSIM.