Our growing cities get smarter every day. Connected sensors, vehicles, and devices make lives more convenient while increasing energy efficiency and reducing maintenance costs. This infrastructure requires secure IoT connectivity products that Teltonika Networks can provide.
Challenge
Construction is a dynamic business. Each project constantly changes the location, so all infrastructure should be able to easily adapt to the next one.
Since such expensive tools are used on-site, it can be difficult to monitor inventory in real-time, so it may take several days or weeks after a theft before it is discovered. In spite of the widespread use of CCTV cameras for monitoring construction sites, storing the footage on the same site is not an efficient method since it is usually stolen or compromised. It is possible that wired internet connectivity is not offered or may be limited in areas where construction sites are located because the infrastructure is not always developed.
Solution
In this solution, we selected a highly powerful and rugged router called the RUTX12. With this device, you can run two simultaneous LTE Cat 6 modems and load balance them for seamless operation. No Internet downtime is guaranteed with dual SIM and automatic failover.
For a simplified power installation, Teltonika Networks TSW100 is used to connect CCTV cameras to Power over Ethernet (PoE). A Centralized CCTV Control room receives the footage from cameras for remote management and monitoring.
Therefore, the footage will not be stolen or damaged. A variety of expensive tools and machinery have ID Coin or ID Puck sensors for easy inventory tracking using Bluetooth technology. In addition, Slim ID beacons make it easy to track when people enter and leave a site at a precise time. The use of a thermal camera at the entrance for zero-touch access control ensures that staff with fevers can't enter the site and prevents diseases like COVID-19.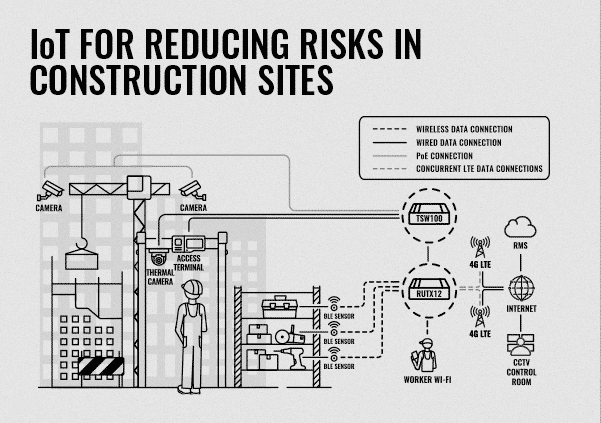 Benefits
Easy installation allows using the same infrastructure on multiple sites regardless of location
Reliable and fast connection ensured by two simultaneously working LTE Cat 6 modems and a load balancing.
Safe storage of CCTV data outside of the construction site.
Real-time tracking of tools using Bluetooth technology.
Remote management allows to access data and troubleshoot from anywhere in the world.
COVID-19 prevention is enabled by zero-touch access control and a thermal camera.