Companies are rapidly adopting connectivity technology to offer customers new ways to interact and collect valuable data to make strategic decisions in the retail market. To accommodate the rapidly changing retail needs, we can offer a range of IoT & Cellular connectivity products.
Challenge
It is not difficult to understand the Digital Signage solution; most of the time, it consists of a screen panel and a media player.
What is more challenging is to control what content, when, and at what intervals it will be displayed. With a single operator responsible for thousands of screens scattered around a significant area, manual uploading is impractical. Operators of Digital Signage infrastructure, in order to be successful, need to be able to upload and control content without downtime.
Solution
Digital Signage infrastructures require reliable and convenient connectivity to manage content efficiently. In this use case,
4G LTE-based cellular solutions are predominant because they address several challenges, such as rapid solution deployment, different connectivity provider management, and dependency on 3rd party wired network infrastructure that is not 100% reliable.
The media player is responsible for playing back marketing content, such as pictures or videos, while the TRB140 is responsible for uploading and managing this content remotely.
A 4G LTE-enabled gateway such as the TRB140 is ideally suited for Digital Signage solutions because it is easy to deploy and scale thanks to its compatibility with Teltonika Networks Remote Management System.
With just one TRB140, you can manage content on the media player, change parameters, and rearrange the playing order.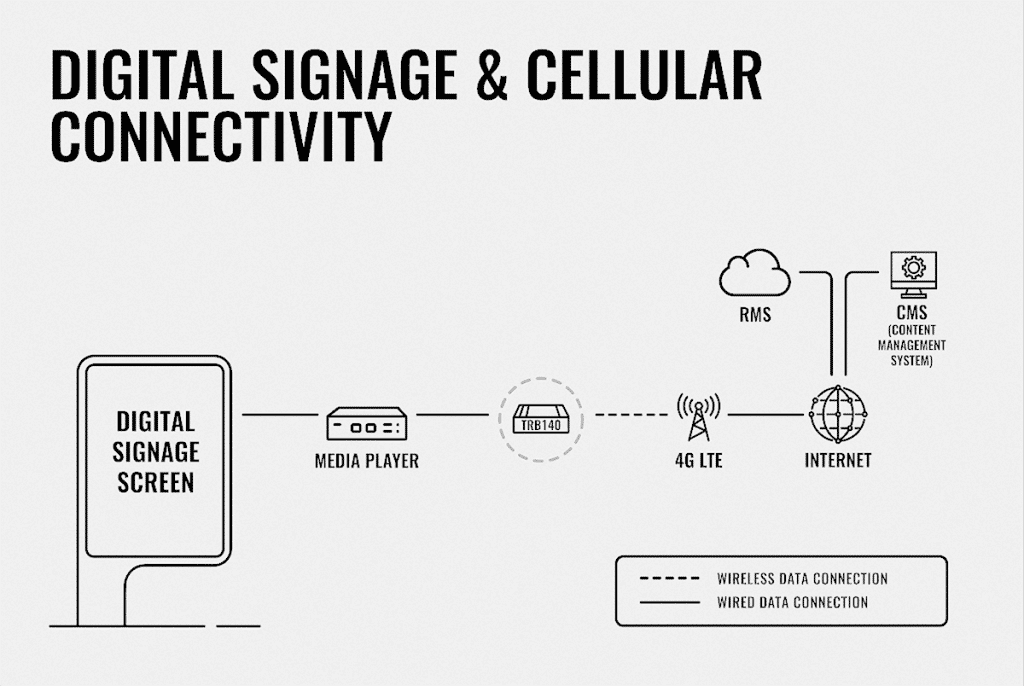 Benefits
Simple to manage – Teltonika Remote Management System allows system administrators to control thousands of different sites using a single graphical user interface.
Easily deploy – no need for installation and contracts for wired Internet access.
Scalable – Teltonika TRB140 is compatible with RMS, allowing you to configure an infinite amount of devices in minutes.
Security – Security will be a priority with the TRB140 due to its advanced features, including VPN, IPsec, Firewall, and Access Control.
Small footprint – The TRB140 has an impressively small footprint allowing installation in even the smallest and most design-conscious Digital Signage enclosures.